Township High School, 1907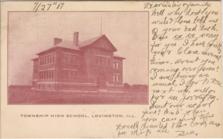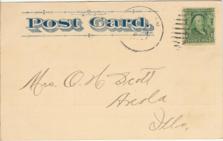 Postmark:
Unreadable, but dated by hand-written date

Addressed to:
Mrs. O. H. Scott Arcola Ills.

Message:
7/27 07 Dear Sister & family. Well why don't you write? Cora told me of your bad luck. I'm so so sorry for you. I have written you & Clara several times. arent you coming over soon? I am buisy (sic) as usual, I go to Dec [Decatur] next wk. will go by & see Joe & Al too. Isn't our school fine? Write when you can find time Donald wanted this card sent for M. to see

Sue

Oliver H. and Lydia B. Rush Scott where married 27 Nov 1892 in Douglas County, and had a daughter, Modesta.

Lydia was the daughter of Francis M. and Sophia L. Rush; their children were Anne E. (born c. 1862), George W. (born c. 1864), Mary C. (born c. 1866), Cora G. (born c. 1868), Joseph W. (born c. 1870), Lydia (born c. 1871), Susan B. (born c. 1874), and Samuel F. (born c. 1878).

Therefore, a number of people mentioned in the text are immediate family: Cora was one of Lydia's older sisters, M. was probably the Scotts' daughter Modesta, and the sender, Sue, was Lydia's younger sister. Clara, Joe, Al, and Donald are unidentified.

Another postcard to the Scott family is here.
Township High School, 1907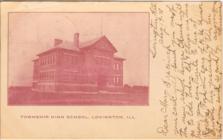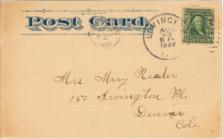 Postmark:
Lovington Ill. Aug 20 1907 8 AM

Addressed to:
Mrs. Mary Reader
150 Irvington Pl.
Denver Colo.

Message:
Lovington Ill.
Aug 19 - '07

Dear Mary.

I received your card..will send you one of the new school house. Maud will go to Colo. today, Ed. & Oliver are there now. you can write to here at Rocky Ford in care of H. M. Minor I wrote her yesterday & told her what you said so good by. as ever yours

Minnie

H.M. Minor was Henry M. Minor, born in Illinois about 1845, second husband of Mellisa B. Pargeon Clore, who was born in Illinois about 1857. Mellisa was previously married to Zachary Taylor Clore.

'Maud', 'Ed', and 'Oliver refer to Thomas Edward and Maud [with no final 'e'] Pargeon, parents of Oliver. Ed was the sister of Mrs. Minor.

The sender (Minnie) and receiver (Mrs. Reader) have not been identified.
Public School, 1923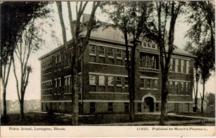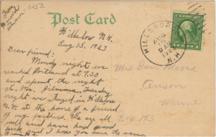 Postmark:
Hillsboro N.H. Aug 15 1923, 9 AM

Addressed to:
Mrs. Ben Moore Anson Maine Box 193

Message:
From Harold Astiam [The last name is unclear, and I'm not sure this is correct.]

Hillsboro N.H.
Aug 15. 1923

Dear friend:

Mondy (sic) night we reached Portland at 7:30 and spent the nightat Mr. Gilmons. Tuesday night we stayed in Hillsboro N.H. at the home of a friend of my farthers (sic). We are all well and have had good luck and I hope you have the same.

The name was probably 'Gilman' rather than 'Gilmon', as that was a common Portland name.
< br>I have been unable to discover much about this card, since the sender and receiver lived in relatively close proximity in Maine and New Hampshire. How a card from Lovington became part of their correspondence is a mystery.