Methodist Church, 1910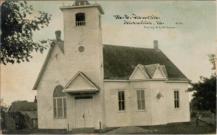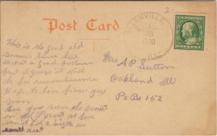 Postmark:
Allenville Jan 26 1910

Addressed to:
Mrs. A.P. Sutton
Oakland Ill
Po Bx 152

Message:
This is the good old summer time here
is not a good picture but I guess it will do for remembrance
Hope to hear from you soon
Have you seen the comet in the (F) west
we have seen it for 2 nights in south west

'A.P. Sutton' was Albert Sutton, a carpenter living in Oakland, Coles County. His wife was Cora James Sutton, daughter of Reid and Belle James. It appears that Cora was born and raised in the city of Mattoon, but must have had relatives in -- or other connections to -- Allenville, based on the reference to 'remembrance'. The sender has not been identified.

Note the reference to Haley's Comet. The appearance in 1910 was far more spectacular than the latest in 1986, and caused much public concern and excitement.

The January postmark does not match the description of this as the 'good old summer time', nor does it agree with contemporary accounts that the comet first appeared in the spring of 1910. Thus the postmark is probably not correct: the postal clerk apparently set the stamp to 'JAN' instead of 'JUN' in error.

This building, though boarded up and unused, was still standing within the last five years. If you know its fate, please let me know.