All of the photographs on this page sent in by Catherine Wiley-Parkin

Related families are Bail, Crowdson, Crumbaugh, Goddard, Rhodes, Smith, Townley


The photos which are surrounded by a red border are large, and reduced images are shown on this and subsequent pages. Click on these photos to see the full-size version.



Thomas Wiley was born in Ireland about 1807, and by about 1837 had settled in Moultrie County. He married twice, first to Margaret Brien, in Ireland before the couple emigrated; after Margaret died, he married Margaret Crumbaugh, of LeRoy, Illinois.

Because the large number of photos would lead to slow download times for those with dial-up connections, I've put one large family group porait here, with links to individual families of Thomas's children.





Wiley Family Gathering, about 1889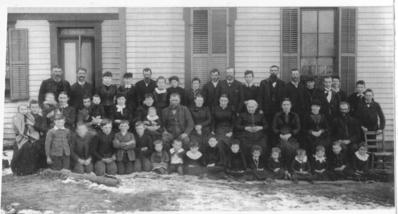 Note that the following list does not include all of Thomas's children; it reflects only those for whom pictures exist. A complete list of his descendents is available here.