All of the photographs on this page sent in by Sheri Beffort-Lantzy

JAMES ARTHUR SOLOMON FAMILY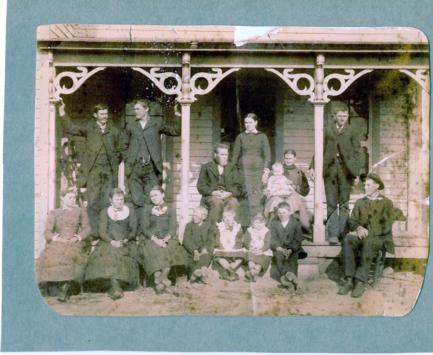 (Click on the photo to see the full-size version.)



From left to right:

Standing in the back row: John Fulton Solomon, Thomas Solomon, Sarah Jane (Jennie) Solomon and Isaac Walter Solomon.

Seated in the back row: James Arthur Solomon, Angeline Fulton Solomon who is holding on her lap the youngest child, James Arthur Solomon, Jr.

Seated in the front row: Mary Elizabeth Solomon, Amy Angeline Solomon, Permelia Isabelle Solomon, Barnabus William Solomon, Alice June Solomon, Maggie May Solomon, George Washington Solomon and Peter Donnelson Solomon.

James Arthur Solomon is my 3rd great grandfather. He married Angeline Fulton (daughter of John Bennington Fulton and Amy Hayden) on 6 October 1859 in Moultrie County. They had 13 children.

They lived in the Jonathan Creek area for many years. James owned 200 acres in Section 24 of Jonathan Creek. His brother John Abner Solomon (who married Sarah Susan Benson) owned 120 acres adjacent to James. Another brother - Abner Solomon (who married Margaret Reynolds) was a prosperous merchant in Sullivan. James had 3 sisters as well - Isabelle who married John Musgrove; Nancy Jane who married Benjamin Smith and Elizabeth who married Wellington C. Reynolds. All of them lived in Moultrie County.

James Jr. was born 16 February 1883, and James Sr. died later that year, on 13 December. Therefore, this picture was probably taken in August or September, 1883.