All of the photographs on this page were contributed by Mary Haunreiter

Related families are Bell, Earp, Foster, Overstreet.




ISABELLE FOSTER EARP BELL


I am descended from Samuel and Permelia Earp. Their son James married my gr. gr. grandmother Isabelle Foster. She and James had a daughter Melissa who was my gr. grandmother. Isabelle divorced James and married a Silas Bell.





EMERY FOSTER FAMILY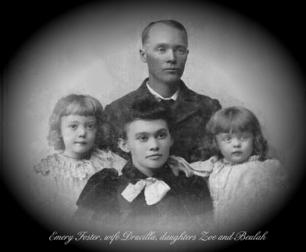 This is a photograph of Isabelle Foster's brother Emery Foster and his family, his wife Drucilla, and daughters Zoe and Beulah. They had two more daughters later. Emery's first name was Marion, but he went by Emery. Emery was born in Lovington, July 3, 1862. Emery and Isabelle's parents were John and Margaret Lamb Foster. There were about 7 more brothers and sisters.





MELISSA EARP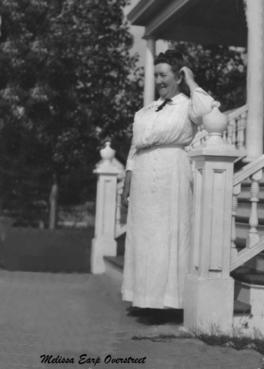 EDITH FOSTER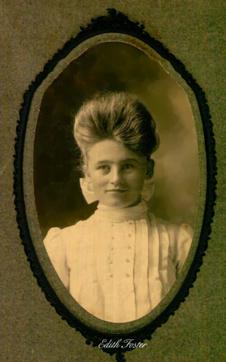 This is photo of Edith Foster Garrett Johnson, taken 10 Oct 1887 in Lovington, Illinois. She was the daughter of Fletcher and Effie Foster, and the niece of Isabelle Foster Earp Bell. She died Jan. 1 1969.





OTE FOSTER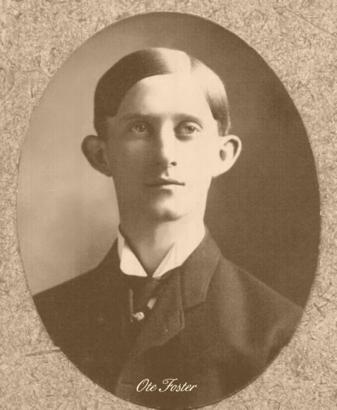 This is photograph of Ote Foster, a dentist in Sulllivan, Ilinois. He was the son of Alva (or Alvey) and Elizabeth Gaily Foster; Alva was a cousin of Isabelle Foster. His wife was Blanche, son Dean.





EMILY, FRANK, and SARAH OVERSTREET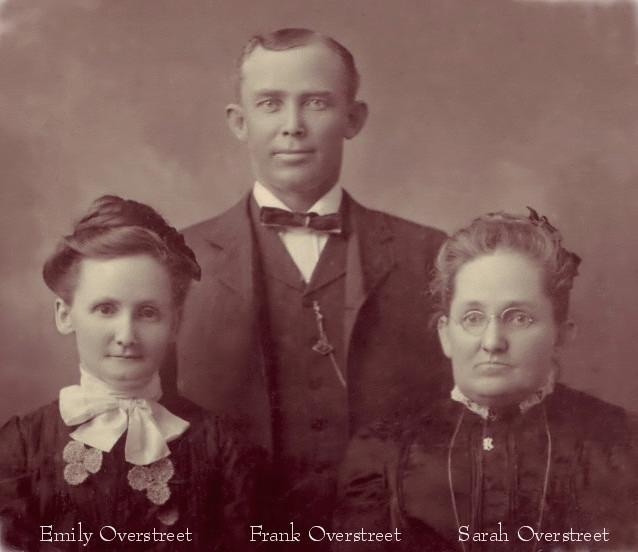 Frank married Melissa, daughter of James and Isabelle Foster Earp. Emily, Frank, and Sarah were the children of George and Sarah Ann Archer Overstreet.





OVERSTREET HOUSE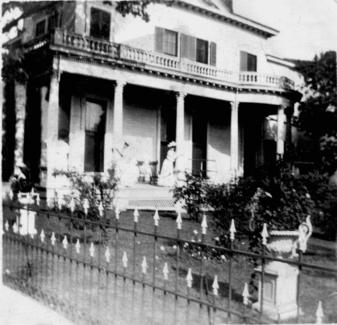 FOSTER, OVERSTREET, BELL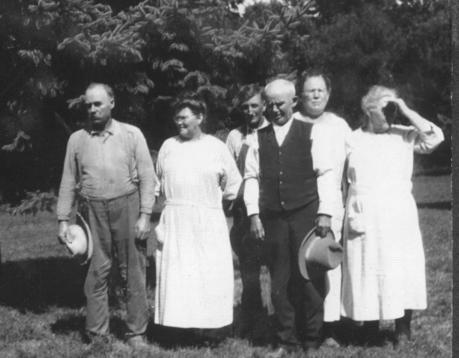 On the back of the photograph it says "Lovington Foster, Overstreet, Bell"
From left to right are Thomas Corwin Kearney, husband of (next) Sarah Overstreet Kearney, unidentified young man (probably a son of Thomas and Sarah, possibly Harry), Frank Overstreet, husband of (next) Melissa Earp Overstreet, Isabelle Foster Bell.





MADGE ISABELLE OVERSTREET





Madge was the daughter of Frank and Melissa Earp Overstreet. She was about 14 in this picture.


The fur in this picture, still in good condition, is owned by Mary Haunreiter.



FOUR GENERATIONS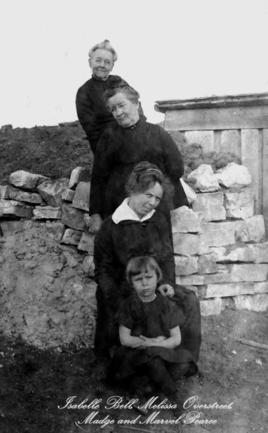 From top to bottom: Isabelle Foster Earp Bell, Melissa Earp Overstreet, Madge Isabelle Overstreet Pearce, Marvel Pearce Bruce. This photo was taken about 1918.





HARRY C. KEARNEY